Dr. Craig Jones
Doctor of Veterinary Medicine
Dr. Craig Jones grew up on a farm west of Comanche, Oklahoma in the small town of Corum. Dr. Jones attended Southwestern Oklahoma State University in Weatherford, Oklahoma on a rodeo scholarship and received a degree in Industrial Arts. Dr. Jones then received his Doctorate of Veterinary Medicine from Oklahoma State University in Stillwater, Oklahoma in 1989 and began practicing veterinary medicine in a mixed practice in Espanola, New Mexico. In 1990, Dr. Jones came to Texas and began working as an associate at the Northside Animal Clinic. He became the sole owner when he purchased the practice from Dr. Owen in 1993. Dr. Jones is licensed to practice medicine in Oklahoma, Texas, New Mexico and Colorado. He is a member of the American Veterinary Medical Association, the Texas Veterinary Medical Association, is a member of the Deans Developmental Advisory Board at the Oklahoma State University College of Veterinary Medicine, College of Veterinary Medicine Alumni Association, the Johnson County Livestock Association, past member of the Johnson County Sheriffs Posse and is a member of the National Sporting Clays Association.
Dr. Jones has been married to Stephanie since 1994 and they have two daughters, Lauren and Lindsey. When not practicing medicine, Dr. Jones is an avid sporting clays shooter, enjoys hunting, fishing, NASCAR, and most of all telling his wife and children endless and pointless homilies. Throughout the years, the Jones family has owned a variety of pets including horses, cows, dogs, cats, chickens, pigs, goats, parakeets, rabbits, donkeys, water buffalo, and a pet possum with an effervescent personality. Dr. Jones yellow lab, 'Junebug" is his newest pet and can be seen most days roaming around the practice as the official greeter.
Drs. Ty and Morgan Smallwood
Drs. Ty and Morgan Smallwood are 2017 graduates of the Oklahoma State University Center of Veterinary Health Sciences in Stillwater, Oklahoma. Prior to their move to Johnson County, the Smallwood's worked for one year in Siloam Springs, Arkansas. The Smallwoods were married on March 31, 2018 in Stillwater.
Dr. Ty Smallwood grew up in Oklahoma as part of a large extended family of cattle raisers and still has a deep interest in the industry in addition to small animal surgery and medicine. Dr. Morgan Smallwood is originally from Belleville, Texas but went to Oklahoma State University as a member of the Equestrian team where she too received a Bachelor of Science degree in Animal Science. Dr. Morgan Smallwood loves internal medicine and the diagnosis and treatment of sick animals. In their free time, they both enjoy spending time outdoors, spending time with family and friends, and most importantly pulling for the Oklahoma State Cowboys! The Drs. Smallwood have a 4 year old German Shepherd named "Dungey" and a 1 year old cat named, "Frank", whose name was inspired by the original OSU mascot , Frank "Pistol Pete" Eaton.
Francois Arenas
John Francois Arenas was born in Bogota, Colombia where he studied Veterinary Medicine at. Francois is a licensed veterinarian in Colombia. Francois is happily married to Yanina and has two fur babies named Dude and Texas. Francois wears many hats at including head technician, employee manager, employee trainer, and translator. Francois has recently completed an extensive ultrasound training program and is now also the ultrasound technician. One of Francois's goals is to become licensed to practice veterinary medicine in the United States. When not working or studying, Francois enjoys hiking with his wife and pups Dude and Texas.
Trish Lamberth
Trish is hardworking and innovative. Trish and her husband, Robbie, and children Tiona and Jayden, and chihuahuas Fancy, Kibby, and Dallas moved to Texas from North Carolina in 2017. Trish loves to craft and garden in her free time and says her favorite animals are chihuahuas because small dogs have the biggest attitudes! Trish's favorite part of working at NSAC is that we are always evolving and working together as a team to give our clients and their pets the best care possible.
Nanette Nelson
Nanette is extremely hardworking and is dedicated to doing whatever it takes to help each and every patient. Nanette has worked at NSAC for 3 years, and has loved every minute! Nanette came to the Northside Animal Clinic from the human medicine side and is an extremely passionate caring individual, whether with animals, the elderly, or the disabled. Nanette is honest, caring, and persistent. Nanette enjoys spending time with her children, Marilyn and Isaiah, and her fiancé, Blake. Nanette's pets include: Blue, the bird; Midget, the cat; and Hermie, Red, and Two Tone, her beloved pups. Nanette's favorite part of working at NSAC is being able to help and be an advocate for animals, as well as the learning experiences she gets every day. She also enjoys building relationships with her co-workers and clients.
Mikayla Clark
Mikayla is hardworking and passionate about animals. She works as a receptionist and is the manager of our boarding facility. Mikayla loves to play softball in her free time. Her favorite animals are dogs because they love you unconditionally. Mikayla has 2 dogs, Leyna and Ammo. Leyna is a 2-year-old German Shorthair Pointer, who she describes as a little spitfire. Ammo is a 10-year-old German Shepherd, who she describes has an old man with a spunky heart! Mikayla's favorite part of working at NSAC is providing quality patient care.
Dawn Miller

Dawn is persistent and works hard every day. Dawn is a jack-of-all-trades and works as a receptionist and a pharmacy technician. Dawn is an absolute animal lover and has two dogs, Lucy, a little spitfire Chihuahua, and Spencer, a stray who found Dawn several years ago. In addition, June Bug, Dr. Jones's yellow Labrador Retriever, has adopted Dawn as her favorite human. Dawn loves being able to interact with clients and learn new things every day.

Darissa Michels
Darissa is thorough, calm, and always keeps her patient's best interest in mind. Darissa has 7 years of experience in the veterinary industry. Her hobbies include spending time with her busy family, reading, cooking, gardening and hiking. She also enjoys playing with her dog, Shadow, and cat, Caramel. Darissa's favorite part of working at NSAC is providing quality and compassionate patient care.
Kyndal McLain
Kyndal is enthusiastic and compassionate. Kyndal is a veterinary technician and can often be found loving on patients. She enjoys playing with her four dogs, Ruger, Kimber, Stormi and Jethro, as well as painting, hiking and fishing. Kyndal's favorite part about her job is her coworkers and the patients.
Jessika Richard
Jessika is energetic and fun to be around. Jess is a veterinary technician and can be seen all around the clinic doing a number of different tasks. Jess loves to play sports and exercise. Jess, and her fiancé Jett, are loving parents to a beautiful daughter, Anakin. Jess's favorite animals are wolves and she has three German Shepherds, Jax, Jasmine, and Buddy. Her favorite part of working at NSAC is helping patients and being able to learn new things every day.
Jessika Johnson
Jessika is empathetic and caring. Jessika works as a veterinary assistant and enjoys interacting with patients. Jessika likes to rodeo in her free time. Jessika has an Australian Shepherd and Border Collie mix dog named Remington. Her favorite animals are horses because they are intuitive and majestic. She says her favorite part of working at NSAC is our staff and clients.
Erin Jay
Bio coming soon!
Tanner Tilton
Tanner Tilton can be found working at the Northside Animal Clinic three days a week in the afternoon. Tanner's jobs at the clinic vary widely and frequently, but he can often be found playing with the dogs in the kennel, outside in the barn working, or maybe even helping the staff restock supplies. Frequently you will hear Tanner long before you see him as he has an unbelievable talent for music and often makes instruments out of anything he can find- anything can become a drumstick and drum at a moment's notice. Tanner is the embodiment of his favorite quote "Livin' the dream" with his sunny disposition, his smile, and frequent hugs. He seldom has a bad day and is a ray of sunshine when he walks into the office in the afternoons. Tanner has an amazing affinity for animals and they, in turn, love him right back. He has three dogs – Maggie, a little dachshund who sleeps with Tanner, and Killer and Fonzi, his outside dogs that found him one day.
Tammy Mendoza
Tammy is extremely hardworking, honest and caring. Tammy is one of our veterinary technicians and she loves taking care of animals. Tammy, her husband J.C., and their 3 children, Jordan, Axel, and Christian have many pets. Their pet herd include: a horse named Oreo, 13 chickens, goats, and an Australian Shepherd Catahoula pup named Sasha! Tammy loves crafting, hiking, and singing. Her favorite animals are dogs, but more specifically her dog Sasha because she is so loving. Tammy's favorite part of working at NSAC are her co-workers. She says everyone is so friendly and helpful!
Gus Jones
Security
Gus Jones was born on September 11, 2010 in Joshua, Texas as part of Jeff and Paula Hall's Dachshund Hall family. When Gus was 5 weeks old he got to go live with the Jones' family and once he "grew up" became Head of Security for the Northside Animal Clinic. He is very friendly and loves to meet and greet anyone who comes into the clinic. Gus spends his days at the clinic performing a variety of tasks including barking, sleeping, trying to avoid "Junebug", and meeting new friends (not necessarily in that order). In the evenings, Gus goes home with Dr. Jones or Stephanie and continues his security duties. Gus loves to spend time in the back yard making sure that no squirrels get in the trees. Gus has two human siblings, Lauren and Lindsey, who he loves dearly, and a canine sibling named "Junebug", who he really doesn't care about. If anyone ever wants to see Gus, he can usually be found at the clinic. Gus is currently working on writing his blog, which will be a compilation of his day-to-day life with a little information mixed in for his fellow pets.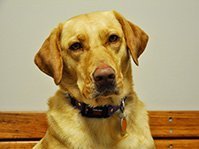 "Junebug" Jones
Security
"Junebug" was born on February 14, 2016 and was raised by a friend of Dr. Jones in Oklahoma. When she was 8 weeks old she got to come live in Texas with Dr. Jones, Stephanie, Lauren, Lindsey and that yappy little dog named "Gus". Junebug is exceptionally well behaved and goes almost everywhere with her dad. They spend most of their days at the clinic and in the evening they usually take care of the showpigs, shoot sporting clays or hang out and watch TV. Junebug's most favorite human, except her dad is her Aunt Dawn and she can frequently be seen following on Dawn's heels helping clients and working.